Google's Structured Snippets – How They Work and What They Are
Structured snippets allow you to highlight key aspects of your products or services in your ads. You can add them at the account, campaign or ad group level. These ad extensions help provide context on the nature and variety of your products or services before visitors click through to your site. You can customize snippets, choosing when they should appear.
Each snippet contains:
Header
A header a list of features you would like to highlight:
Up to two headers at a time can show on your ad
Your header text must match one of the categories in this list from Google
Add several relevant headers to your ads because Google will use their algorithm to determine the best combination of headers to show
Below is an example from Google of what using snippets might look like in an ad for a company that sells boots. The snippet is outlined with a red rectangle.  In this case, the header "Styles" was given four values (Chukka, Combat, Cowboy, Chelsea).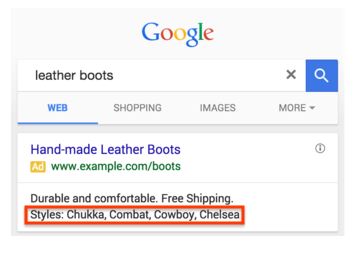 Values
Values are a list of products or services that you would like to highlight

Minimum of 3 values needed
25 character limit per snippet value
For mobile, limit text to less than 12 characters
Must follow Google's policy and be family safe
Your header and values must match. A mismatch will result in disapproval of your snippet. Google explains values in more details below:
"Values for the Style header should be variations of a fairly specific category, like sandals or high heels, while values for the Type header can be variations of broader categories, like light fixtures or shoes."
Best Practices
Keep these in mind when creating and/or optimizing structured snippets:
Provide sufficient information. At least 4 values per header
Consider mobile users. Shorter snippets for customers using mobile
Increase your options. Adding multiple header-value set. This provides more options and ensures that relevant extension will show with your ad
Pick the right format. Structured snippets should highlight a complete group of products or services that your business provides
Here's an example of what a structured snippet should look like: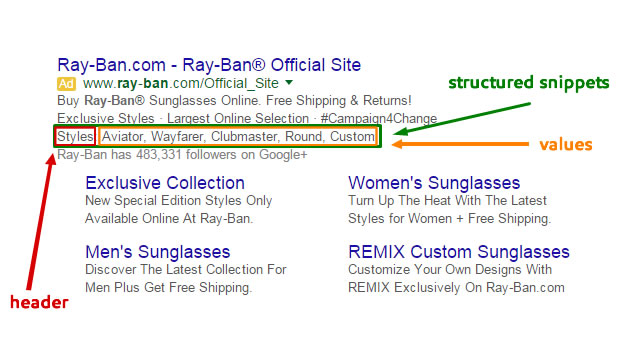 Find out how we can help your AdWords Campaign and Digital Marketing Strategy!